Portchester school pupil struck by ball dies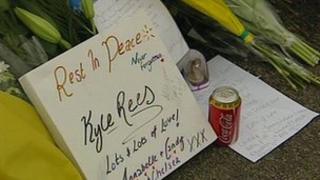 A 16-year-old boy has died after apparently being hit on the head with a cricket ball at a Dorset school.
Kyle Rees was hurt at Portchester School, Bournemouth, on Monday and died after being transferred to Southampton General Hospital.
A 16-year-old boy arrested in connection with the incident has been released on bail.
He was held initially for an offence of assault and subsequently on suspicion of manslaughter.
A police statement said: "A cordon is currently in place at the school while officers investigate the circumstances surrounding his death.
"Teachers and children have been helping police with their inquiries throughout the day."
'Emotionally testing'
Headteacher Debbie Godfrey-Phaure said: "Students and staff are devastated by this terrible tragedy and our hearts and prayers are very much with the boy's family and friends.
"It is difficult to know what to do for the best in these distressing circumstances but our focus must be providing as much support as possible to our close-knit school community as we all try to come to terms with what has happened.
"The next few weeks and months are going to be emotionally testing for our students and staff, but we will be doing all we can for them.
"We are also be fully assisting the authorities with their investigations.
"The emergency services cannot be praised highly enough for their prompt actions at the time, and we also pay tribute to the outstanding medical help he received at hospital.
"At an appropriate time we will be celebrating his memory and life at school.
"He was a memorable and talented young man. He was very popular with his peers and was due to do well in his GCSEs this summer."
Kim Drake, service director for children's social care at Bournemouth Borough Council, said: "We have set up a counselling service at the school to offer pupils, staff and parents support following the incident at the school and we are currently working with both the school and the police with their investigation."
Kyle was injured at about 14:10 on Monday and taken to Bournemouth Hospital.
He was then transferred to Southampton General Hospital in a critical condition, where he died on Tuesday.