Bournemouth University's success in Hollywood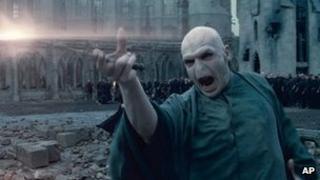 The careers of digital animators behind such movie icons as Harry Potter and Optimus Prime are being launched from a university in Dorset.
More than 70 graduates from Bournemouth University's National Centre for Computer Animation (NCCA) worked on films that were Oscar-nominated for their visual effects at the 84th Oscars.
These included Hugo, Harry Potter and the Deathly Hallows Part 2, Rise of the Planet of the Apes and Transformers: Dark of the Moon.
Former students have also contributed to animated films Kung Fu Panda 2, Rango and A Morning Stroll.
'Unfair advantage'
Dan Sheerin graduated with an MA in Computer Animation in 2000 and is now based in Los Angeles as technical animation supervisor for Sony Pictures Imageworks.
His recent credits include The Amazing Spider-man, Men in Black 3, Green Lantern and Alice in Wonderland.
Mr Sheerin said the NCCA gave him an "unfair advantage" in the industry, adding: "We were the first choice for recruiters throughout the UK and even though I am working abroad, I am constantly crossing paths and working with other graduates from the NCCA.
"We are everywhere and our reputation seems to have travelled with us.
"To put it simply it has had a huge impact on the visual effects industry worldwide. It's very impressive to have witnessed."
Another former student, Andrew Lockley, picked up an Oscar in 2010 for his work on Inception.
The visual effects supervisor graduated from the university in 2000 with an MA in Digital Special Effects.
And Cristobal Infante, whose MA was in Computer Animation, worked on the effects seen in the Oscar-nominated animated short, A Morning Stroll.
He said: "We all got together in our meetings room and roared with excitement when we saw the nomination flash up on screen - it was such a thrill.
"Going to Bournemouth definitely helped my animation career get started. I did the MA in Computer Animation, and inside one year had a solid grasp of 3D.
"The NCCA is also well known throughout the industry, so at least when you apply for jobs it's likely they will look at your showreel."
'Technical prowess'
Sofronis Efstathiou, senior practice fellow in Computer Animation, said the university's success was down to the "communication and collaboration between technical and artistic students".
"That really feeds into their creativity and technical prowess when it comes to them leaving here," he added.
Paula Callus, senior lecturer and joint programme co-ordinator for Computer Animation Arts, added: "It's about having a graduate who can be technical but has the experience of working with artists and speaks their language, and an artist that understands the technology enough to be able to tell a technical person what tools they need.
"That is our strength and always plays to their advantage."
Mr Efstathiou said films such as the Harry Potter franchise had contributed to the growth in the UK's visual effects industry and the greater need for home-produced talent.
He said: "Three quarters of our graduates worked on the last two Harry Potter films.
"From the visual effects point of view it's really helped the industry grow and be as competitive as it is now in the world.
"The man on the street will think the visual effects were done in LA, but the majority of that work was done in Soho, London, and that's what makes us proud.
"Not only have our graduates been working on those features but they've created an industry which turns over billions each year for this country."
NCCA students and staff were presented with a special award by The Queen at Buckingham Palace in February.
The award celebrated the media school's "talent, commitment and knowledge" in the field of computer animation.
It has been singled out by the National Endowment for Science Technology and Art (NESTA) in a report presented to Ed Vaizey, the minister for culture, communications and the creative industries.
NESTA said that "almost half of all graduates from specialist VFX (visual effects) courses who gained employment in the industry had graduated from Bournemouth University".