Twin Sails Bridge: Poole weekend walking ceremony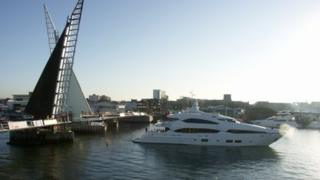 Dorset residents have walked across the new Twin Sails Bridge in Poole during the weekend ahead of its official opening.
Events on Saturday included a ribbon-cutting ceremony. A human chain across the bridge is planned for Sunday.
The £37m lifting bridge spans Backwater Channel between Hamworthy and Poole port.
The first traffic will cross the bridge on 27 February and the official opening is on 9 March.
The Mayor of Poole's Community Weekend started with a civic procession led by the mayor, Councillor Graham Wilson, from Poole Museum to the bridge.
Mr Wilson said the ceremony imitated events that took place during the opening of the existing Poole bridge, built 85 years ago.
"We're delighted that a number of local residents who took part in the 1927 opening are joining us at this event and we are proud to use the same ceremonial scissors that cut the ribbon in the previous opening all those years ago," he said.
The bridge will also be open to pedestrians on Sunday from 10:00 GMT to 16:00 GMT.
An event called Hands Across The Harbour, which invites people to form a human chain across the bridge, will take place on Sunday at 13:30 GMT.
HRH The Princess Royal will be visiting the Twin Sails Bridge on 12 March.