Reading band Karn8 release Sick EP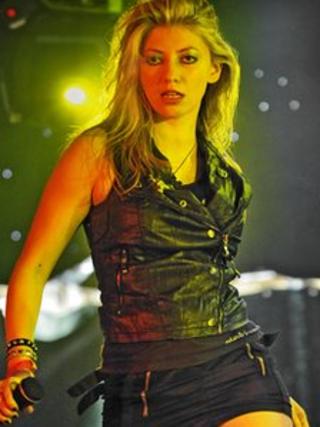 Reading blues punk trio Karn8 are releasing a new EP with an interesting video to go alongside it.
The title track, Sick, is about people who are "too goody-two-shoes", said frontwoman Kirst, and so the video has her gorging upon cake and sweets in what the band describe as a "salubrious B-movie setting".
It is the fourth EP for the band, who previously released album Of All The Strange Things in 2009, and will be released through their own label, Wicked Boy Records.
Though the band are the first to state that people need to see them live, not just buy their music.
And this is almost entirely down to the stage act of Kirst, who has an aggressive death stare, confrontational banter and will demand drinks from the bar.
"Definitely be warned if you come to one of our shows," she said. "You're not going to come off lightly."
Off stage, she is "private", and is also a drum teacher.
But after training as a drummer at the the Academy of Contemporary Music in Guildford, she eventually decided to stick to singing.
"I'm only 5ft 3 so people were always complaining that they couldn't see me," she said, of previous bands she was in where she tried to sing and drum at the same time.
"I did actually want to move around a bit.
"I wanted to break free and get up the front - and terrorise people."
The EP launch is on Wednesday 22 February at the Oakford Social Club, Blagrave Street, Reading. Entry is free.