London 2012: Handover of Weymouth and Portland sailing village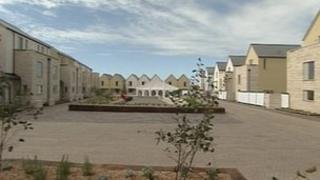 The Weymouth and Portland Sailing Village in Dorset has been officially handed over to the London 2012 organisers.
The Olympic and Paralympic sailing events will take place in Weymouth Bay and Portland Harbour.
Millions of pounds has been spent on transforming Osprey Quay, which will house about 400 athletes and team officials in 77 residential units.
A ceremony was held on Thursday afternoon to mark the handover.
Social housing
Deputy chair of London 2012, Sir Keith Mills, received the Weymouth and Portland Sailing Village on behalf of the London Organising Committee of the Olympic Games.
Early plans to house athletes on a cruise ship moored at Weymouth Bay were dropped in 2009 in favour of the housing development on Officer's Field.
The field was part of the naval base HMS Osprey until 1998 and was the only flat recreational ground in the Underhill area of Portland.
During a tour around the Osprey Quay development in Weymouth and Portland, Sir Keith told officials: "In the early days of the bid I was the idiot who came up with the idea of putting a ship out here in which the athletes could live.
"I remember coming down here in 2003 when I was helping to run the bid and the idea of even having a village here was a glint in the eye. Now look at the quality of what has been built.
"I am very pleased to say that we made another choice to abandon that idea and have now got this amazing village which we are temporarily taking over from today.
"Olympic villages are amazing places. This is where the world will be focusing and I do not think they could have wished for a better home."
Olympic organisers said the athletes' village would be available for social and affordable housing after the Games.
The Weymouth and Portland National Sailing Academy and the adjoining commercial marina will host a total of 13 Olympic and Paralympic sailing events during London 2012.