'Roman' human remains found in Dorset back garden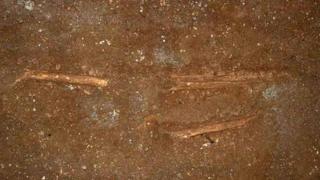 Human remains found in a Dorset back garden could date back to Roman times.
The bones were discovered by builders working on a house in Preston, Weymouth, on Thursday.
Dorset police have now handed the bones to experts at Bournemouth University, who have confirmed they are human and "of antiquity".
Biological anthropologist Elizabeth Craig-Atkins said tests in the coming weeks would reveal more about the person's age, gender and stature.
Dr Craig-Atkins said she immediately identified the remains as human when Dorset Police showed her photos of the upper leg bone and the bottom end of an upper arm bone.
She added there was a possibility the bones could be thousands of years old.
"Where we excavated is an area close to Roman archaeological sites," she said.
"Without the extra evidence of carbon dating there is a suggestion the remains may well be associated with the Iron Age Roman period."
A Dorset Police spokesperson said the bones would not form part of a police inquiry.
"The site and remains were an archaeological burial site that revealed nothing of modern forensic significance," a spokesman said.
"Bournemouth University are examining the bones further for science."