Dorset zumba dancers fail to set record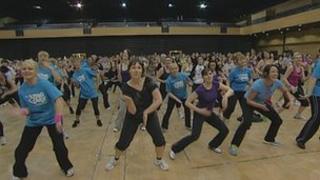 Two Dorset charities have failed to break a world record for the largest zumba dance class.
They were hoping to beat the current record of 2,012 people, set by Zumba Fitness in London last year. But only about 600 people took part.
The event at the BIC in Bournemouth was raising money for the Lewis-Manning Hospice in Poole and the Wessex Autistic Society.
Zumba combines Latin and international music with dance.
The dance fitness programme mixes different styles such as samba, rumba, flamenco, salsa, reggaethon and hip hop.
It was the second failed attempt by the charities. They tried to break the record in October last year but only managed to gather 750 dancers.
Fundraising manager Maria Tidy said they would make another attempt to break the record later this year.
She said it had still been a success because they had managed to raise lots of money for the charities and had raised awareness.