London 2012: Weymouth Jurassic stone sculpture unveiled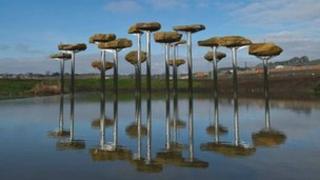 A collection of 16 Jurassic stones mounted on steel plinths have been unveiled in Dorset to mark the 2012 Olympic games.
The sculpture is near the Jurassic roundabout in Littlemoor, Weymouth, and is close to the venue for the Olympic and Paralympic sailing events.
The project is funded by Arts Council England, Dorset County Council and Weymouth and Portland Borough Council.
It cost £335,000 and is part of a three-year project costing £725,000.
Each boulder weighs between two and nine tonnes.
They were formed between 160 and 65 million years ago in an area of the county that would have been a tropical lagoon.
The sculpture was designed by Devon-born artist Richard Harris.
Mr Harris said: "I was inspired to work with the large Bencliff Grit stones when they were revealed by the road excavations on Southdown Ridge, to preserve them and to give them a new life after millions of years under ground."
Phil Gibby from Arts Council England said: "When people arrive in Weymouth for the 2012 Olympic sailing events, this sculpture will welcome them and connect the vibrant and creative place it is now with the geology and prehistory of its past."