Man with anorexia tells how school bullies caused disorder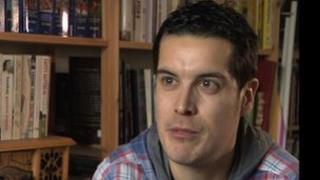 Recovering anorexic John Evans first decided to lose weight in a bid to silence the school bullies who taunted him.
Mr Evans, from Poole in Dorset, now looks like a fit and healthy 32-year-old, but up until recently his life was very different, it was almost over.
"When I was about 14 I felt that I had to change the way I looked," he said.
"I thought that I had to live up to other people's expectations rather than waiting for them to stop bullying me, or to accept me for who I was."
He began asking his parents for "children's portions" at meal times and would exercise by repeatedly running up and down the stairs of his family's home in South Wales.
"All of the fit people at school were really popular so when people told me I was thin it was an ego boost," Mr Evans said.
Mr Evans said he became "more obsessive" when he was about 16.
'My only achievement'
"My whole life had to be directed around the fact that I couldn't put on weight.
"I believed my only achievement in life was being thin. I'd weigh myself as soon as I got up, after every meal, before I went to bed, every couple of hours.
"It got to the stage that I had to do the exercise, that I couldn't eat anything."
But it was during his time at Leicester University in 1998 that his eating disorder took over his life.
"For the first time in my life I was in charge of what I ate as I wasn't living with my parents," Mr Evans said.
He lost a stone-and-a-half in his first six weeks at university.
His weight plummeted to six stone (38kg) before he finally decided to see the university doctor.
Mr Evans was dangerously ill. His liver and kidneys were failing and he was diagnosed as anorexic.
Outpatient care
"It didn't even occur to me because I'm a man and the little I did know about eating disorders was that it was something that affected teenage girls", Mr Evans said.
"When the GP said the word anorexia I didn't believe her, but it does not discriminate against age, background, sex, class or sexuality."
Mr Evans, who now works as a library assistant, received outpatient care at university and later got a job in Manchester.
But his struggle with anorexia resurfaced in 2005 and he was hospitalised for three months.
Mr Evans was discharged but after moving south his weight dropped dramatically once again, causing him to be re-admitted to hospital in April 2010, for four months.
Diary published
While recovering in hospital Mr Evans wrote a diary entitled Becoming John; Anorexia is Not Just for Girls, which has been published.
He said he hopes his diary will encourage men suffering from eating disorders to seek help.
"Maybe they will go to their GP and the wheels will get set in motion a lot quicker than they were with me and they won't have to live their twenties like they didn't happen," he said.
Dr William Rhys-Jones, an expert on male eating disorders, said: "Men are less likely to pick up on their symptoms and recognise their symptoms as an eating disorder.
"Likewise when they do pick up on it the stigma of having an eating disorder as a man is quite phenomenal and it's very difficult for men sometimes to even acknowledge it."
The charity Men Get Eating Disorders Too, based in Brighton, estimates that between 10% and 20% of people with eating disorders in the UK are men.
Asked how much he now weighs, Mr Evans replied: "I've no idea, I haven't weighed myself in two years."
For more on men with eating disorders watch Inside Out South on 13 February at 19:30, or on the iPlayer afterwards.