Weymouth Pavilion Theatre may shut amid budget cuts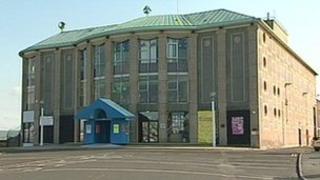 A theatre in Dorset could be forced to shut as part of council budget savings.
Weymouth and Portland Borough Council said it would be holding talks later to discuss several options for Weymouth's Pavilion Theatre.
Councillor Andy Blackwood said: "We have to look at running on a reduced budget, that could mean closing parts of the complex."
In December, councillors voted against providing a further £60,000 of funding.
Councillors will look at three alternatives including further cost-cutting, closing the theatre or handing it over to a trust.
'Bums on seats'
Mr Blackwood said: "There is a risk that we could have to shut part of the complex. I'd like to be confident, but it's difficult days."
Mr Blackwood said the pavilion could be vacant during the Olympics.
He said: "We could have an empty building here when the eyes of the world are on us, and that's something that I'm going to fight to avoid."
The councillor said the struggling theatre was the biggest problem as the Ocean Room, which hosts music events within the complex, had seen a big increase in ticket sales.
"It's not as simple as just saying we need to get more bums on seats because just getting people into the building doesn't necessarily generate a profit as strange as that may seem." he added.
Ambitious £135m plans to develop the whole area which included a hotel, refurbished theatre, marina berths, and new flats where shelved in 2009.