Academics consider value of Boscombe artificial surf reef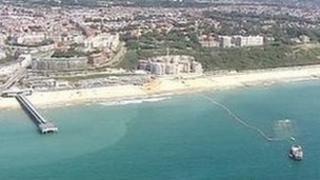 A survey being conducted on the impact of Dorset's artificial surf reef will consider whether the scheme has been value for money.
Academics at Plymouth University are to survey local businesses and people who depend on the sea for work or leisure to gauge its economic impact.
The £3.2m underwater reef, off Boscombe, opened in 2009 but was closed in March 2011 after it was damaged.
Previous surveys have focussed on how well the reef works.
Emma Rendle, from the Marine and Coastal Policy research group (MarCoPol) at Plymouth University, said: "What we can now begin to consider is the socio-economic impact - can we quantify its benefits, and if so, do they outweigh the costs of construction?"
During the web-based survey, commercial fishermen will be asked if their catches in Poole Bay have changed since construction began on the reef. Hoteliers will be asked if it has had an effect on their bookings. Shopkeepers, anglers, surfers and divers will also be among those to be polled.
Researchers will also carry out interviews and offer paper copies of the survey to people without access to the internet.
The reef was created to enhance waves using 55 giant sand-filled bags, which are 740ft (225m) out at sea.
It opened in November 2009 after lengthy delays and running over budget.
It has been criticised for not working properly and a specialist report by an academic at Plymouth found the reef had not achieved all its objectives.
The council remains in talks with ASR Ltd, the firm which built the reef, over remedial works.
Many traders in the area have argued the reef has added to the regeneration of the once-rundown area.
New restaurants, shops and seafront apartments have been built around the beach close to the reef and Boscombe's Overstrand building and pier entrance have also been revamped.
Bournemouth Borough Council said it was not involved in the latest survey but had carried out its own survey of seafront visitors which found that 68% felt the open space improvements and the restored pier were important in their decision to visit the seafront.