Snow and ice cause crashes across north Dorset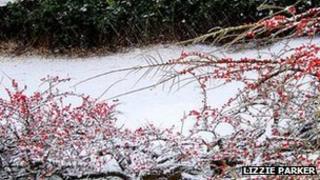 Snow and ice made roads in the north of Dorset "treacherous" on Sunday, with a number of crashes reported.
The south of the county largely escaped snow overnight on Saturday but drivers were given warnings about ice.
On Sunday, police said some roads in northern areas were only passable with 4x4 vehicles after a number of minor-injury road crashes were reported.
Gritters were out in force across main roads with Dorset County Council updating its gritter twitter feed.
An ice warning issued by the Met Office has now been lifted for the county with temperatures set to rise slightly on Monday.
Sea frozen
Over the weekend, Bournemouth council said it had 1,800 tonnes of road salt in stock.
The authority also issued gritter alerts on Twitter with the username @bournemouthbc.
On Saturday, the severe cold led to the sea freezing near to the coast in Dorset's Sandbanks resort.
The AFC Bournemouth and Exeter City match also had to be rescheduled for Tuesday as the pitch at the Seward Stadium was frozen.