Twin Sails Bridge divides opinion in Poole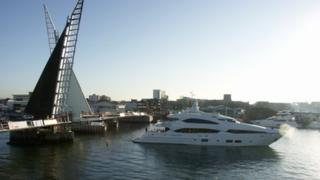 It's the "dawn of a new urban renaissance", a "catalyst for change", and a "symbol for Poole's ambitions".
The Twin Sails Bridge in the Dorset town has already had its fair share of superlatives from local council officials and will have a firework-studded celebration when it officially opens on 9 March.
The Bournemouth Symphony Orchestra has even collaborated with five schools to compose a special piece of music for the opening ceremony, and the Poole Rotary Club is offering commemorative certificates on the day.
In short, Poole is making a big noise about this bridge, which will connect two areas of the coastal town across the Backwater Channel.
It will also "unlock" four major regeneration sites - two in the town centre and two in Hamworthy, including an old power station site that had been decommissioned in 1998.
'Ghost town'
"It's easy for us to just become a retirement town," said Elaine Atkinson, leader of Poole Borough Council.
"A lot of people here have big retirement purses and enjoy a life in Canford Cliffs, but we need to have jobs for our young people and we need to grow."
As if to emphasise its need for more than just a crossing, the bridge is fast coming to symbolise the town's hunger for a cultured and aesthetic regeneration.
"The population has grown by 100% in the last 50 years," she said.
"We are an ambitious town, we have a dynamic economy. 2012 will mark the renaissance of Poole."
But there is also a concern that the regeneration sites will not be developed for some time, leaving Poole looking like a "ghost town", according to Roger Ives, from Poole Marine Services.
Currently, the old power station site has not yet been granted planning approval. Developers Gallagher Estates and Lands Improvement Holdings bought the 13-hectare (32-acre) site in 2003.
But the plans for 1,674 homes, commercial premises, community facilities and open space is still being considered by the council's planning department.
Developers Nikal have bought land near the new bridge but it is currently being used as a parking lot.
"This is going to be a dead area with a brand new bridge in the middle of it," said Mr Ives.
According to the council, Poole has campaigned for a second harbour crossing for more than 30 years.
A spokesman said the new crossing would ease traffic congestion and unlock more than 60 acres of underused brownfield land.
Over the next 10 to 15 years, the project is expected to deliver 2,000 homes and create up to 5,000 jobs.
'Louder voice'
A 10,000-signature petition from local residents spurred on the bridge plans, though the council also received nearly 40 objections, including concerns that Poole would become swamped with traffic.
The Poole People political party had campaigned against the bridge, calling it "the wrong bridge in the wrong place".
Some Hamworthy online forum users also fail to share the council's positive outlook, one member calling it a "grotty little bridge" with a number of others claiming there is no infrastructure to deal with the extra traffic.
One resident, Fred Luton, called the £37m bridge a "waste of money in the current climate," while Lou Knight said he would be avoiding the bridge because of the "traffic nightmare", preferring to go the long way round.
But Dorset chamber of commerce chief executive Peter Scott said there would always residents complaining about any economic development, and that they should "take comfort" in the extensive environmental impact assessments and traffic flow studies carried out beforehand.
Mrs Atkinson said the current lifting bridge between Hamworthy and the town centre was 85-years-old and no longer sufficient.
"In 1927 we didn't have 40 tonne juggernauts," she said.
"The four sites can't be regenerated until we have a second harbour crossing."
The design of the bridge also speaks volumes about town's aspirations and a distinct pride in its maritime heritage.
Where the council could have installed a traditional bridge, instead there are two gleaming triangular-shaped lifting leaves, symbolising the sails of a yacht.
It has already won various design awards and has featured in design exhibitions in Moscow, Sydney and London.
"It has put Poole firmly on the international map," said Mrs Atkinson, who added: "This gives us a louder voice".