Corfe Castle postman William Blight claims trolley forced him to quit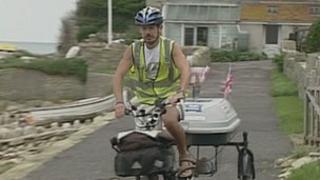 A Dorset postman claims he was forced out of his job when he was ordered to abandon his bicycle and deliver mail by trolley instead.
William Blight, from Corfe Castle, told an employment tribunal in Southampton he felt bullied and intimidated.
Mr Blight, 42, is claiming unfair constructive dismissal after he left his job in March 2011.
The Royal Mail told the hearing it had gone out of its way to resolve the situation.
Mr Blight delivered post in his home village for 14 years.
In 2006 he won an award from the Royal Mail for cycling 5,000 miles for charity in six months.
But in 2010 changes introduced nationally by the Royal Mail meant bicycles were being replaced with high capacity trolleys in response to more packages and fewer letters being sent.
Pavements 'too narrow'
Mr Blight was told to give up his bike for a trolley or change his round and use a van.
He told the hearing that the pavements in Corfe Castle were too narrow, making it dangerous to use a trolley.
He also said he was unable to drive the company's vans because they had manual transmission and he had a licence only for automatic vehicles.
The court heard he was signed off for 11 months due to "work-related stress" and later resigned.
In total Mr Blight has brought 21 grievances to the tribunal, with others including the Royal Mail not repairing his bike which he said had become unsafe.
His line manager, John Cresswell, was asked if he saw Mr Blight as "a bit of a nuisance".
He said: "I don't think that. Every one of the issues he raised I tried to deal with as fairly as possible."
Judgment in the case was reserved and will be announced at a later date.