Dorset 2012 section of England Coastal Path opens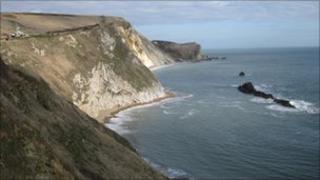 A section of a proposed England Coastal Path has officially opened in Dorset, close to the London 2012 Olympic and Paralympic Sailing events.
The 20mile (32km) route will start at Rufus Castle in Portland and will end at Lulworth Cove.
Ramblers and mountaineers have welcomed the news, although they have expressed concern about the pace of the project.
The plan received Royal Assent in 2009, but so far only six areas of English coast have been included.
By contrast, Wales is set to open its entire 870 mile (1,400km) national coast path in May.
The newly opened Dorset path will boast views of the London 2012 Olympic and Paralympic Sailing events, which will take place in Weymouth Bay and Portland Harbour.
However, from mid July to mid September, two sections of the path in the Weymouth Bay area will be closed for security reasons, with alternative routes in place.
'Small stretches'
The British Mountaineering Council (BMC) said: "The BMC and the Ramblers have campaigned hard for a right of access to the English coast for walkers and climbers and will continue to press on government the need to continue rolling out our coastal access rights around the whole of the English coast.
"Since the coalition government came into power, work has only begun on small stretches of coast in six areas."
In a statement, a spokesperson from Defra said: "We are working closely with Natural England to look at how we move forward after Weymouth and the five other stretches.
"It is important that we have the opportunity to look at the lessons learnt from the current projects that are being implemented to make sure that coastal access is delivered as cost effectively as possible."
Last year Natural England, which is creating the trail, said it had to re-assess the original plans for a £50m England Coast path after a 5% budget cut.
Plans to roll out further coastal paths outside the pilot areas were not included in the government's Comprehensive Spending Review last October.
Mike Childs, of the Long Distance Walkers Association, said: "We are in favour of anything that gets people walking.
"The path will be along one of the most extraordinary pieces of coastland in Britain, and even in Europe.
"It's not easy to set up, there are issues such as cliff erosion and complicated rights of way."