The American student living in Thomas Hardy's house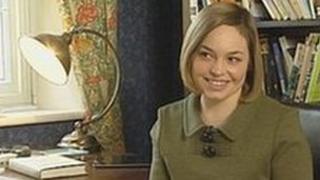 An American PhD student from Arkansas is living in one of Dorset's most famous houses.
Jacqueline Dillion originally came to Thomas Hardy's former house, Max Gate near Dorchester, as a visitor.
But after finding out the tenants of the house were moving out after 12 years in residence she ended up moving in.
Ms Dillion said she was "speechless" when offered a three-year tenancy in the Victorian villa which is owned by the National Trust.
"I'm conscious that I'm still a visitor, but I like to think that he would not mind me being here," she said.
She is currently working on her thesis about the author using Hardy's first study which then became his bedroom
"It was where he wrote The Woodlanders, one of his happier novels and his favourite," she said.
"I'm writing the in same spot where he would have written, with the same scenes of nature. A lot of people have said they feel a positive energy here."
Designed by Hardy himself the house was where Tess of the d'Urbervilles and The Mayor of Casterbridge were created.
The property is just down the road from the cob and thatch cottage where Hardy was born.
Ms Dillion said: "When I first moved into the house I couldn't even bring myself to read Hardy because I was self-conscious and embarrassed, but the opposite feeling quickly took over."
Ms Dillion also sleeps in the famous author's bedroom. "I sleep in the spot where his marital bed was," she said.
The red brick villa which is open to the public was Hardy's home from 1885 until his death in 1928.
"When all the hustle and bustle of the visitors has died down I return to the study to write where I really feel the evocative sense of everything that's gone on before," she said.