Cycleway plans to link Dorset, Jersey and Brittany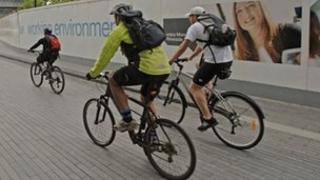 Cycleway improvement plans which could encourage European riders to visit Dorset have gone on show.
Dorset County Council is planning work to the county's cycle network, including a link to Weymouth's cross-Channel ferry terminal.
It would create part of the so-called "Petit Tour de Manche", a 220-mile (350km) cross-Channel cycle tour linking Dorset, Jersey and Brittany.
The proposals are on display to the public in Weymouth Library.
The council plans to use European Regional Development Fund money to improve cycle routes in Weymouth, Dorchester and Purbeck as part of the Cycle West cycle tourism project.
When complete, the council says the route, which takes in Cherbourg, St Malo and Jersey, could be promoted to touring cyclists across Europe.