London 2012: Weymouth and Portland transport plans criticised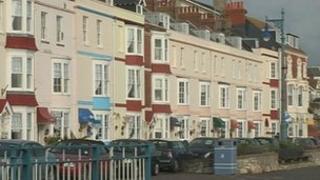 Businesses in Dorset have criticised transport plans to accommodate visitors to the 2012 Olympic sailing events as "unfair".
Designated pedestrian routes, clearways and road closures are planned for the estimated 30,000 extra visitors to Weymouth and Portland each day.
Local traders said non-Olympic visitors could be put off by measures including closing the seafront Esplanade.
Dorset County Council said it was "very sympathetic" to local businesses.
The council announced the main seafront Esplanade, Westham Road and part of King Street in Weymouth would be closed between 10:00 and 22:00 BST, security checkpoints would be in place and there would be restricted access to the harbour area.
About 200 residents attended a meeting in Weymouth Pavilion on Thursday when they were shown the plans.
Restaurateur Patrick Rieckhoff said: "My normal customers are not going to be getting to park close to the restaurant, therefore I'll lose them.
"I'm in a back street so I'm worried the new visitors won't find me, and taxis won't be able to come up the street. I have genuine concerns that my business might well suffer."
Dave Price, of Weymouth and Portland Hotel and Guesthouse Leaseholder's Association, said: "It's not fair on the businesses to close The Esplanade for that time."
He said the closures would inconvenience guests and questioned the value of the extra visitors at a time when the town would expect to be full of tourists anyway, including the lucrative school holiday market.
"There is a bad public perception that we'll be rammed out and we'll make a fortune during the Olympics.
"If you only have six rooms, you can only fill six rooms. If you can't make money during the school holiday period then you will go to the wall," he said.
Matthew Piles, Dorset County Council roads and traffic manager, said the measures would ensure "safe, secure and efficient travel".
"We are very sympathetic to local business. We have to take into account the 75,000 people who live in the borough."