Dorset MPs fight Portland coastguard helicopter closure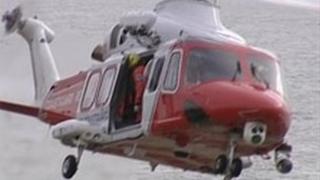 Two Dorset MPs are challenging the decision to close Portland's search and rescue helicopter.
Conservative MPs Richard Drax and Oliver Letwin met Transport Secretary Justine Greening to discuss the closure.
Mr Drax has described plans to close the Portland helicopter service in 2017 as a "false economy".
However, the Department for Transport (DfT) says the changes will provide a more reliable overall service.
Portland coastguard centre is also set to be replaced by a new Maritime Operations Centre (MOC) in Hampshire.
'Most needed'
A report will be presented to the transport secretary to try to persuade her that the reasonings behind the closure are wrong.
Mr Drax, who represents South Dorset, said: "It may look fair to space our search and rescue helicopters equally around the coastline... but in fact, 25% of all coastguard co-ordinated callouts are between Brixham, Portland and Lee on Solent.
"Our rescue assets must be concentrated close to where they are most needed.
"In addition, there are 300 ship movements a day passing within 20 miles of Portland Port - without the Portland helicopter, our ability to act in an emergency would be severely hampered."
The government said all search and rescue helicopters would be crewed by civilians after the Sea King fleet is removed from service by March 2016.
Search and rescue operations are currently provided by the Ministry of Defence (MoD), which uses Sea King helicopters from eight military bases, and the Maritime and Coastguard Agency (MCA), which operates from four civilian bases, including the one in Portland.
These will be replaced by a modern fleet of helicopters operating from 10 bases.
Portland, which operates only in daytime hours, and RAF Boulmer in Northumberland, are proposed as the two centres which will close.
A spokesperson from the Department for Transport said: "A modern, faster fleet of helicopters operating from 10 full-time bases (rather than the 11 full-time and one day-time only operated now) will provide a more reliable overall service that still meets the key search and rescue requirements.
"Independently verified analysis shows that the two bases from which it would be operationally most sensible to remove search and rescue operations, while still maximising coverage of the UK search and rescue region, would be Portland (the daytime only base) and RAF Boulmer in Northumberland."