Volunteers install £100,000 drainage system at Swanage station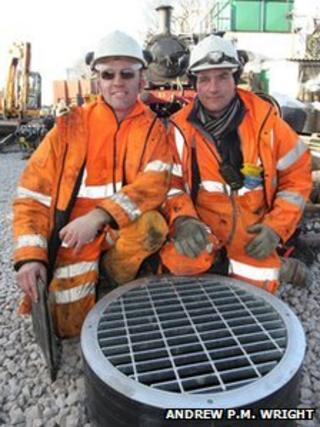 Volunteers and staff are carrying out £100,000 drainage system replacement work at a Dorset railway station.
It is the first time such extensive work has been carried out at Swanage station since the steam days of British railways almost 50 years ago.
The track will be lifted to dig out the post-war drainage system, to make way for the new system.
The last British Rail train, from Swanage to Corfe Castle and Wareham, ran on New Year's Day in 1972.
Since the closure, Swanage Railway has been rebuilt from scratch by volunteers and ran its first passenger train from Wareham to Swanage in 2009.
The Swanage Railway Company's volunteer chairman Peter Sills said the tracks require a good drainage system to help it run into the future.
Mr Sills said: "When the first volunteers started to rebuild the Swanage Railway from nothing at a disused Swanage station in 1976, they inherited a derelict and blocked drainage system after British Rail ran down, closed and then demolished the branch line railway in 1972.
"We're using modern drainage system materials - such as permeable plastic membranes - which the Victorian designers of the Swanage branch line back in the early 1880s could never have dreamed of."
Over the last two years, the railway company has invested more than £200,000 in relaying a mile of new track between the limits of Swanage station and Herston Halt on the outskirts of Swanage - track that was originally laid during the early days of the late 1970s and early 1980s.
The work, which began on 3 January, is expected to last about another six weeks.
Trains are not operating to and from Swanage, but a diesel rail bus shuttle train service is still running at the other end of the re-laid Purbeck Line - between Norden Park & Ride and Corfe Castle stations on Saturdays and Sundays until 26 February, 2012.
Full steam train services are due to resume between Norden Park & Ride, Corfe Castle, Harman's Cross, Herston Halt and Swanage on Saturday, 3 March.
After 35 years of rebuilding work, the Swanage Railway now carries more than 200,000 passengers a year and has become the most visited paid-for attraction in Dorset.