Dorset baby was buried without brain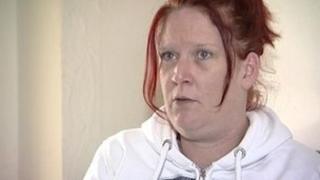 A mother has discovered that the brain of her baby who died 13 years ago has been kept in storage by a hospital.
Julie Middleton, 40, from Poole, in Dorset, lost her son Regan to cot death and did not know Southampton Hospital retained his brain on police request.
She said: "When his dad carried his... coffin I assumed he was all in there."
Dorset Police is auditing tissue samples as part of a nationwide inquiry and said affected families were being told "as quickly as possible".
A police spokesman said: "When a suspicious death occurs we have to take every step possible to establish the cause.
"Examination by experts such as neuropathologists, to establish cause of death, and defence counsel can take a long time.
"In such cases evidence may also have to be preserved for extended periods of time so that it is available in the event of an appeal or a legal challenge."
'Wheel of grief'
The audit into retained human tissue samples is being carried out nationally and is expected to be completed by March.
Organs and other tissue samples could be taken following deaths until a change in the law in September 2006 ruled that relatives must be informed first.
Deputy Chief Constable Debbie Simpson, lead on forensic pathology for the Association for Chief Police Officers, said: "The audit will allow us to identify and consider the most appropriate way of sensitively dealing with tissue no longer needed for criminal justice purposes."
Regan was six-weeks-old at the time of his death in 1999.
Ms Middleton said it was revealed to her, by two police officers on Wednesday, that his brain had been kept in a jar since that time.
She said: "I was absolutely blown away. He wasn't complete in his grave. Part of him was somewhere else.
"The whole wheel of grief reopened.
"When he died it was like a volcano erupted, and when they told me that all the lava started coming out again.
"There's a wheel of grief I'm on now again. I've got the anger, the hurt, the pain.
"And the people I thought I could trust the most - i.e. the coroner's officer, Southampton Hospital - have obviously let me down immensely.
"If they had asked me if the brain could be removed, and explained it would take six weeks for the procedure, I would have waited for the funeral to have Regan complete."
'Difficult time'
Southampton Hospital said it was asked to retain Regan's brain by the Home Office and Dorset Police as part of the forensic case into the cause of his death.
A statement said: "Regan was not a patient at our hospital. We take bodies from around the region for post-mortem examinations and his post-mortem was performed by a Home Office pathologist at the request of Dorset Police.
"In forensic/coroner cases, they often ask for organs to be retained in the event of ongoing investigation and we are asked to hold these specimens, at the request of the police and/or coroner, until told what they want us to do, e.g. sensitively dispose, return to families for burial."
The Dorset Police spokesman added: "We have decided on a policy of openness with families but at this stage we will not be revealing how many are involved until they have all been visited.
"We know this is incredibly difficult for the family and friends of those people whose tissue we have identified and we are providing all the support we can to help them at this difficult time."