Alcoholic man aged 26 needs liver transplant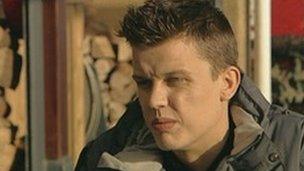 Matt Maden was 10 years old when he first started drinking alcohol.
Now aged 26 he needs a liver transplant.
Without one, he will die.
Mr Maden, from Bournemouth, was diagnosed with liver cirrhosis, as a result of alcohol abuse, when he was 21.
Since then, he has had three life threatening bleeds. He has also had a stent (a plastic tube) placed into his liver, to prevent fluid from building up on his stomach and lungs, and had another one fitted on Monday.
Dr Varuna Aluvihare, from King's College London - where Mr Maden's transplant will take place if a suitable match is found - says one in five patients die on the waiting list.
"Tragically, every year we fail to keep someone like Matt alive," Dr Aluvihare said.
"We don't have enough organs at the moment and someone like Matt could be on the list for about 18 months."
Mr Maden admits this thought is "scary at times".
"I find it difficult to find someone who knows what I'm going through," he said.
The first time Mr Maden got drunk was at the age of 15.
"I remember waking up the next morning and my first thought was, 'when can I next do that again'," he said.
Mr Maden said he built up a "strong tolerance" to alcohol.
"I went from drinking about eight cans of lager to get drunk and then, say a year down the line, it'd take maybe double that," he said.
"After a couple of years I'd have to have maybe a bottle of spirits to go along with that."
Dr Aluvihare believes society's binge drinking culture is to blame for a lot of alcohol related illnesses today.
"More people of Matt's age will be coming and seeing someone like me [in the future] - and you really don't want to be coming to see someone like me, because by that point you're in real trouble."
Mr Maden, who eventually ended up drinking alcohol at all times of the day, said his social life "started to decay" as a result.
He said: "I started to become a bit more reclusive.
"For a lot of years alcohol gave me confidence. Little did I know that in the end alcohol would actually turn on me and it would start to control me."
Mr Maden, who works as a carer, said he is no longer ashamed to admit he is an alcoholic.
But when he woke up in hospital in 2006, after being in an alcohol-induced coma for two weeks, he said he was in "total denial".
"My immediate thought was, 'it's not the drink'," he said.
Mr Maden, who is originally from Oxford but moved to Bournemouth to attend a clinic, had four weeks of physiotherapy to learn to walk again before he could undergo rehabilitation.
He said: "I'm glad to say I haven't had a drink since I moved down here four and a half years ago.
"How I behaved in the past was really, really selfish.
"I can't imagine what I must have put my family through - it must have been heartbreaking.
"I know I can't change the past but I think it's what I do today, and in the future, that matters now."
Alcohol related illnesses cost the NHS £3bn a year and the UK economy £50bn a year, according to Dr Aluvihare.
BBC Inside Out South's alcohol special is broadcast at 19:30 GMT on BBC One and is available on the iPlayer for the following seven days.
Related Internet Links
The BBC is not responsible for the content of external sites.