London 2012: Olympic sailors see work at Weymouth viewing tower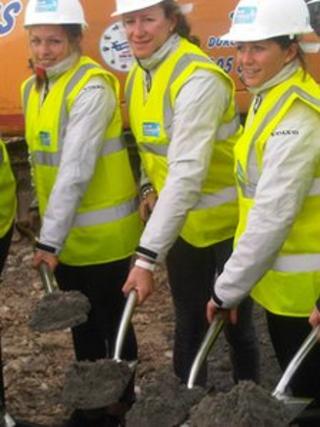 Three Dorset Olympic sailors have helped marked the start of building work on a viewing tower at Weymouth seafront ahead of London 2012.
Poole match racing trio Lucy Macgregor, Kate Macgregor and Annie Lush used commemorative spades to symbolically overturn soil at the site.
The 53m (173ft) tower on Festival Pier is due for completion in early July.
The tower will offer views of Olympic sailing events, which Weymouth and Portland will host.
While they were at the site, the three sportswomen went up on a crane to see what the views of Weymouth would be like from the planned panoramic viewing pod on top of the tower.
Lucy Macgregor said: "It was awesome to see some different views of Weymouth, and it's exciting to have something new on the seafront."
Bird's eye view
She added that she was "excited" to be competing in her home county during the Olympics.
The £3.5m tower will overlook the Olympic Festival Village and provide a bird's eye view of the event course.
Building work began ahead of schedule "several weeks ago," developer spokesman Mark Oakley said.
Twenty-nine, two-foot (60cm) high concrete piles are being sunk 55ft (17m) deep at the pier, as a watertight barrier for the excavation works.
The tower, which is being built in Bremen, Germany, will be shipped to the UK in sections.
Its total weight when complete will be 130 metric tonnes.
Some residents previously lodged objections over the tower with Weymouth and Portland Borough Council, which approved the plans, with several claiming it would damage views.
Merlin Entertainments, the firm behind the plans, said feedback had been "very positive" but it vowed to address concerns raised by some residents.