Boxer Jonjo Look back in ring after losing lower leg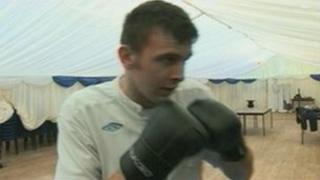 Almost two years ago, amateur boxer Jonjo Look could not walk after losing part of his right leg in an explosion as he filled a gas canister.
But now the fighter is getting back in the ring.
Mr Look, 18, from Weymouth, has undergone months of rehabilitation and uses a prosthetic limb.
His right hand was also hit by a piece of shrapnel - it was broken in 14 places and needed 45 stitches - but has now fully healed.
Although doctors have cleared the middleweight boxer to fight again, the Amateur Boxing Association of England (ABAE) - the sport's governing body - still has to agree to him competing.
In the beginning, Mr Look said he thought he might not fight again which he described as "devastating", but added "there's no use sitting around whingeing".
"It's an obstacle but I've just got to get over it," he said.
'Lucky' recovery
A spokesperson for the ABAE said: "The safety of boxers is our number one priority and we are in the process of arranging an independent assessment to determine Jonjo's ability to compete in a way that meets the rigorous safety standards we have in place to protect the health, safety and well being of all competitors."
Mr Look, who hopes to study as a gamekeeper at college, is back in training at Dorchester Amateur Boxing Club and describes his recovery as "lucky".
Nine inches of Mr Look's shin was severed when a gas canister he was filling, to power a CO2 air rifle, exploded in May 2010.
Although doctors could have saved his leg it would have been limp, so he chose to have it amputated.
With his prosthetic limb in place, Mr Look learned to move again.
"Within two months I was walking," he said.
"The limbs available to me, which come from Bournemouth's prosthetic centre, are pretty good."
Prior to the accident, Mr Look won the 2010 Western Counties Championship and the Dorset ABAE Championship.
He has always dreamed of turning professional, a dream which he says he still hopes to achieve if he can.
"I know it's a long shot, but I want to have a go and see if it's still possible," he said.
"I can still move my hands and feet pretty well, and even though my hand was damaged I can still punch OK too."