Concerns in Dorset over 2012 Olympics hotel bookings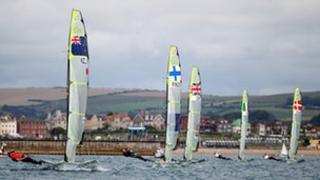 Concerns have been raised after many hotels in Dorset are yet to be booked up ahead of the 2012 Olympic sailing events in the county.
Weymouth and Portland council is worried regular customers are being put off by the Games which are due to be held between late July and August.
Some hoteliers are leaving the period clear in the hope of attracting block corporate bookings.
The council said it was vital that a lasting "legacy" was left for the area.
The authority is also monitoring any price rises by businesses linked to the Olympics.
'Make a judgement'
The Moonfleet Manor Hotel in Weymouth said it had left all its rooms empty.
Neil Carter, general manager, said: "The normal booking patterns probably wouldn't work [for us].
"So we have held out for a large company, possibly sponsors of the Games, to try and take exclusive use for the two weeks."
The council admitted hotels can run their bookings as they wish but said it did not want their actions to harm new visitors.
Councillor Howard Legg said: "It is really up to the businesses, they have to make a judgement.
"One of the things they've not got to do is scare people off so they never come back again.
"We want a legacy from these Olympics and we want people to come again, again and again."