Swanage Railway closure anniversary marked by signalman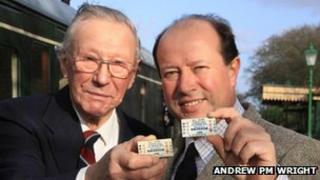 A retired Network Rail signalman has returned to a Dorset railway to mark the 40th anniversary of its closure.
The last British Rail train from Swanage to Corfe Castle and Wareham ran on New Year's Day in 1972.
Since the closure, Swanage Railway has been rebuilt from scratch by volunteers and ran its first passenger train from Wareham to Swanage in 2009.
Bob Richards, the signalman on the last journey in 1972, was joined by former passengers for the anniversary.
Those passengers included Peter Sills and his father Frederick Sills, from Wareham, as well as Malcolm Munro, from Wool.
Peter Sills and Mr Munro brought along their last British Rail train tickets from 1972, which cost 25p and 50p respectively.
Mr Sills, volunteer chairman of the Swanage Railway Company, said: "When I rode on that last train as a 14-year-old with my father in 1972, I never ever thought the railway would come back - especially when the tracks were ripped up for scrap during the summer of 1972."