Poole's Twin Sails bridge road system opens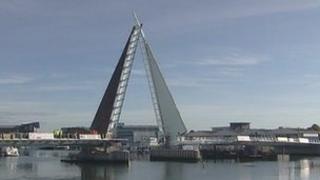 A new road system linked to the construction of a £37m bridge has opened in Dorset.
Drivers in Poole began using the new layout, including a one-way system, from midnight.
The changes, which cost £930,000, are part of regeneration plans linked to the Twin Sails bridge.
The lifting bridge, which is expected to open for traffic in early 2012, spans Backwater Channel between Hamworthy and Poole port.
It will enable access to 26 hectares of brownfield land for regeneration.
Following the road layout changes, part of West Quay Road, West Street, Bay Hog Lane and the new Marston Road link are one way.