Bournemouth children to design Jon Egging memorial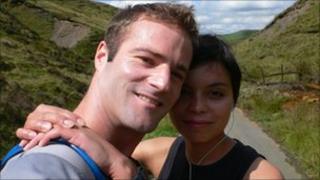 Every school in Bournemouth is invited to submit their ideas for a memorial to a Red Arrows pilot who died after an airshow display.
Flt Lt Jon Egging, 33, from Rutland, was killed when his aircraft crashed into a field at the village of Throop, near Bournemouth Airport, on 20 August.
Schools have until 8 February to submit up to three designs each.
The winning design will be chosen by Flt Lt Egging's widow, his family, a close friend and two Red Arrows pilots.
It will be in place for the 2012 Bournemouth Air Festival in August and will be situated at East Cliff, on the cliff top, in an area known as the East Rockery, the council said.
The site was chosen by the pilot's widow Dr Emma Egging and his mother Dawn.
Dr Egging said: "The strength of feeling expressed by people in Bournemouth following Jon's death was so moving. I have been overwhelmed by the support of the town and it feels right that his memory should live on there.
'Happy memories'
"The location we have chosen for the memorial has happy memories for me of time spent with Jon. It has a stunning backdrop out to sea and, of course, is a popular viewing spot for the Red Arrows displays during the air festival."
A team of professionals from the council is working with Flt Lt Egging's family, friends and colleagues to make sure the memorial is a fitting tribute to the pilot, who grew up in Southam, Warwickshire.
The designs will be displayed at Bournemouth Library in the spring, the council said.
Experienced artists are also being invited to help transform the winning design into reality. They have until 16 January 2012 to express an interest. More details can be found at www.bournemouth.gov.uk/joneggingmemorial