Sherborne House in Dorset to become tourist attraction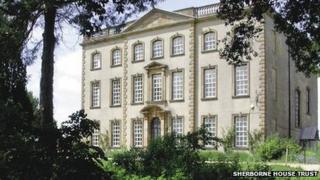 Plans to transform an 18th Century stately home in Dorset into a tourist attraction have been approved.
Developers plan to restore the Grade I listed Sherborne House to include an art gallery and cafe.
The building, which featured on the BBC programme Restoration in 2004, has been in the ownership of Dorset County Council since the 1930s.
For much of this time it served as a girls' grammar school before being leased to an arts group in 1992.
The house, which was put on the market in 2007 after plans to turn it into an arts centre with lottery funding failed, has recently fallen into disrepair and is in need of "substantial renovation", according to the council.
Charles Dickens
The Tudor wing of Sherborne House was originally built in 1570.
However, the main building dates back to 1720 after being bought by Henry Seymour Portman.
Redcliffe Homes will renovate the house, which it bid £3m for in 2008, including a full restoration of the building's mural staircase created by well-known Weymouth painter Sir James Thornhill.
The stately home, which was visited by Charles Dickens, will then be used to stage exhibitions and events.
The developers, who also plan to build 44 homes on nearby land, have agreed for Sherborne House Trust, an arts group which has leased the building since the early 1990s, to continue providing services at the house providing it can put together "a sustainable business plan".
Councillor Robert Gould, from Dorset County Council, said: "It's great that the future of Sherborne House has finally been secured.
"This means it's now certain that many more generations will be able to enjoy the history and culture it provides."
Work is set to start on the site in January.