Disabled young swimmer Alice Tai to carry Olympic torch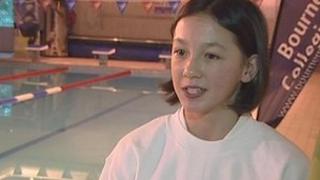 A 12-year-old swimmer from Hampshire born with club feet has been selected to be one of the torchbearers for the London 2012 Olympics.
Alice Tai, from Barton on Sea near New Milton will carry the Olympic Torch for the Games in July next year.
She was doing her homework when she found out she had been chosen: "I was so surprised," she said.
The Olympic flame will arrive in the UK from Greece next May before travelling 8,000 miles around the country.
Despite being unable to hop, skip or jump Alice excels at swimming.
She is a member of the Seagulls Swimming Club in Christchurch, Dorset and has been selected for the GB talent programme for disabled swimmers.
In March she won six gold medals at the national junior disability swimming championships.
'Absolutely momentous'
Alice is one of 6,500 people who have been sent an email about carrying the Olympic Torch.
The swimmer, who hopes to become a brain surgeon, said: "I would like to get to the Paralympics, I'm training hard and hope that I can get there."
She has spent a lot of time in hospital and has had 13 invasive operations on her feet.
Her mum, Angela Tai, said: "For the last two years she's spent the best past of 18 months in a wheelchair. Swimming has given her a massive focus.
"All the family are planning to be along the route, it will be a huge occasion, absolutely momentous."