Protest at Wareham playing field sell-off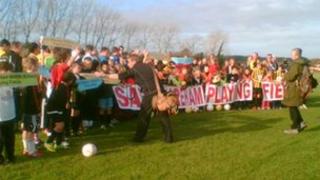 Junior football teams in a Dorset town have staged a protest over plans to sell off their school playing field.
Dorset County Council said the land at Wareham Middle School was no longer needed following the reorganisation of schools in the area.
But Steve Barfoot, from Wareham Rangers FC, said the grounds were used by up to 70 young players each weekend.
He added that losing the facility would be a "tragedy" for the local clubs.
A spokesman from Dorset County Council said: "The secretary of state will only grant permission to dispose of the land if we can demonstrate that we will reinvest in sporting facilities for Purbeck."
But Mr Barfoot said: "There is not another facility that could be used to replace what we've got.
"It's already over-subscribed and there is no alternative for us."
The council will apply for permission to sell the land in January.
Before then it is asking for feedback from local residents, sporting organisations and any other interested parties.
Comments need to be submitted by 16 December.