Residents have say on Poole beach huts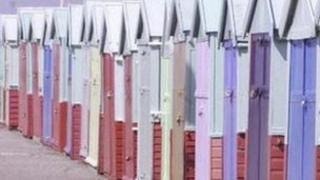 Plans to reduce waiting times for beach huts in Poole are to be put to residents in a consultation.
Borough of Poole, in Dorset, wants to change the terms and conditions for letting its 1,138 huts to cut the 10-year waiting list.
Under the plans, there could be a maximum ten-year period for lets, more huts would be offered as short-term lets and extra ones would be built.
In September the council revealed it is increasing the cost of beach huts.
'Best way forward'
Public engagement councillor Judy Butt said: "On reading the full report and listening to comments from members of the public I feel it is now appropriate to consult on the issues arising to help us decide the best way forward."
A report on the proposals will go to the council cabinet on 13 December but no date has been set for the consultation.
In September the borough council voted to put up the rent on beach huts by an average of about £440 by 2013.
The average price of a beach hut in the borough is set to rise from £846 to £973 next year, £1,119 in 2012 and to almost £1,300 by 2013.
There are about 500 Poole residents on the waiting list for a beach hut.