Bournemouth surf reef boss Tony Williams in chief exec appointment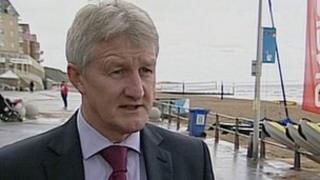 The man in charge of Bournemouth's surf reef has been unveiled as the town borough council's new chief executive on a basic salary of £125,373 a year.
Tony Williams, the current executive director for environment and economy, is set to replace Pam Donnellan who is retiring at the end of March.
The Unison union has questioned his performance over the £3.2m reef which has been dogged with problems.
But the council said he proved himself during a tough interview process.
Mr Williams has been the lead officer on the surf reef project which opened late and over budget in November 2009.
Those behind the project faced criticism for the overspend and delay, and also over the failure of the reef to produce the right waves.
It has been closed since March after two of the giant sandbags were damaged by a boat.
Mr Williams will be earning almost exactly the same salary as the outgoing chief executive.
He will face the challenge of reducing costs at the Conservative-led authority, which is seeking to make spending cuts of £9.2m in 2011/12.
As part of the proposals, the council is looking to transfer staff from its human resources and finance departments to support services company Mouchel.
The authority said it would take into account the firm's annual losses of £64.8m, which it posted on Wednesday, before making a decision.
'Tough times'
Dave Higgins, from Unison, said: "I can imagine there will be concern from some councillors and the public about his performance on the reef, so it will be interesting to see what will happen.
"My main concern is with the outsourcing; I hope he will look at it objectively as a lot of staff will be affected."
Mr Williams said he was ready for the challenges ahead while the council has defended his record over the reef, citing major regeneration the scheme has brought to Boscombe.
He added: "My priorities... will be working with members on key issues for the town, including continuing to regenerate Boscombe.
"The next five years will be difficult for local government.
"In Bournemouth we have already planned for the tough times ahead, but I will not be complacent."
Mr Williams's appointment is still subject to checks and ratification by full council on 6 December.