Search and rescue bases in Boulmer and Portland to close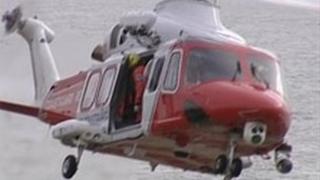 Search and rescue helicopter bases in Northumberland and Dorset are to close, the government has revealed.
Operations based at RAF Boulmer will cease in 2015 while search and rescue operations at the Portland coastguard centre will end in 2017.
The government also said all search and rescue helicopters would be crewed by civilians after the Sea King fleet is removed from service by March 2016.
The announcement was made by transport secretary Justine Greening earlier.
Search and rescue operations are currently provided by the Ministry of Defence (MoD), which uses Sea King helicopters from eight military bases, and the Maritime and Coastguard Agency (MCA), which operates from four civilian bases.
'Same standards'
Ms Greening said she expected a contract for search and rescue work to be awarded in early 2013 and the successful bidder would operate from 10 locations.
She said: "The Royal Navy and the RAF crews have shown great dedication and professionalism in delivering an exemplary search and rescue service for many years, and we owe them all great thanks for this.
"Looking forward, we are confident that, building on nearly 30 years of civilian service provided under contract to the MCA, a fully civilian service will be able to maintain the same standards in the future."
Shadow transport secretary Maria Eagle said: "The public will want reassurances from ministers that the switch to civilian crews, providing our search and rescue capability under a private contract, will meet the same exceptional level of service provided by the Royal Navy and the RAF over many years."
"This decision coming so soon after the decision to close nearly half of the UK's Coastguard stations means there will be real concern that a desire to cut costs is driving decision-making and not the need to maintain safety and security around the UK's coastline," she added.
'Resultant redundancies'
Shadow defence secretary Jim Murphy MP said: "We need to know what the impact will be on the futures of serving RAF and Navy search and rescue pilots. We must also be told whether there will be resultant redundancies at RAF Boulmer."
Last week the government confirmed that Portland's coastguard centre will shut by 2015. It is one of eight around the UK being closed.
The south coast will instead be covered by a new Maritime Operations Centre (MOC) in Fareham, Hampshire.
In February the government suspended plans to privatise the search and rescue service around the UK after "irregularities" emerged in the bidding process.
A consortium called Soteria had been the preferred bidder to provide new aircraft in a £6bn contract but the process was shelved after the company admitted it had access to commercially sensitive information.