London 2012: Olympic opening event on Weymouth beach to be staged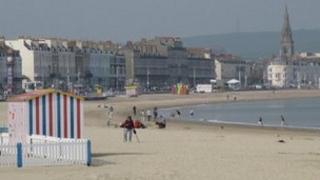 A display of circus, dance and cabaret will be staged on a Dorset beach to mark the opening of the 2012 Olympics in the county.
Breathe, which has been commissioned by the Arts Council, will take place in Weymouth on 28 July next year in front of an expected audience of 10,000.
Eighty performers, able-bodied and people with disabilities, will take part. Ages range from 12 to 50.
Weymouth and Portland will host the sailing events during the London Games.
Jamie Beddard, lead artist, said: "Breathe will celebrate the lives, voices and ambitions of those seldom placed centre-stage."
Organisers say they want to represent all the people of Dorset at the opening of the Olympics.
The performers are from two theatre companies: Remix integrated youth theatre, which meets at various locations in Poole, Bournemouth and West Dorset; and Double Act Disability theatre company from Bournemouth.
Eighteen performers from Brazil will also take part to reflect the fact that the Games will be staged there in 2016.
The event forms part of the official London 2012 Festival and has been described on its website as a "breathtaking performance".