Weymouth Olympic park-and-ride price 'beggars belief'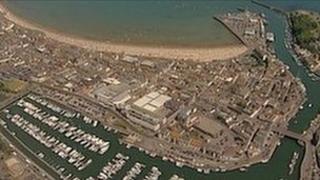 Motorists and business owners in Dorset have said a planned price increase at a park-and-ride site for the Olympics "beggars belief".
Prices at Mount Pleasant park-and-ride in Weymouth will rise from £3.50 a day to £10, plus an optional £2.50 online booking fee, in the summer of 2012.
The Olympic Delivery Authority said extra staffing and security at the site were the reasons for the increase.
Weymouth and Portland will host the sailing events during the London Games.
'It's disgusting'
Weymouth resident and motorist Ashley Newman said: "It will simply encourage more motorists, especially those who know the area, to attempt to drive into the town centre during the Olympics to find alternative parking, therefore clogging it up and causing travel chaos."
Mark Sers, manager of the Prince Regent Hotel in the resort, said Mount Pleasant was a "fantastic addition" to Weymouth, because town centre parking was at a premium. But added he could not understand the logic behind the price increase.
Jane Germon, who works at a newsagents in the town, said: "It's disgusting. It's certainly not going to be good for business."
Mount Pleasant, which has 1,000 spaces and is usually run by Dorset County Council, will be used exclusively by sailing ticket-holders during the Games, the Olympic Delivery Authority said.
It added: "We're in discussion with Dorset County Council about alternative provision for current users on competition days."
There will be about 8,000 Olympic park-and-ride spaces at six sites in Dorset.
These sites are: Monkey Jump, Littlemoor, Park Street Car Park, Lodmoor South, Mount Pleasant and Kingston Maurward College.
The £10 charge applies to all park-and-ride facilities outside London while the Games are running.
People wishing to park at sites near London venues will be charged £14 a day.
Although the Olympic Delivery Authority advises pre-booking spaces online for an additional £2.50, it said motorists would be able to turn up at park-and-ride sites on the day.
It added that services would be more regular, running up to every three minutes instead of every 15.