Dorchester swimming pool built after 80 year campaign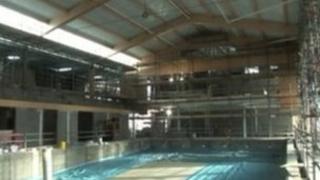 Funds first raised by Dorset children before World War II are being used to build a new swimming pool in the county.
The money was raised in a campaign started 80 years ago as there were no public swimming baths in Dorchester.
Having been invested, and together with funds raised by the Dorchester Swimming Bath Trustees, it is now worth £72,000.
This has been donated to the new £8m Dorchester Sports Centre on Coburg Road which is due to open next spring.
Bryan Clark, who donated some of his own pocket money as a child to scheme, said: "If we didn't go down to the River Frome we didn't learn to swim."
He added that he was glad his pennies were finally being put to "good use".
'Great achievement'
The council-run Thomas Hardye Leisure Centre on the site of The Thomas Hardye School in Dorchester, which includes a swimming pool, was built about 30 years ago.
However, this is a dual use pool for the school and the public, but public use is limited.
The new centre, which will replace the Thomas Hardye Leisure Centre, will be open to the public seven days a week.
The trustees have campaigned for a public pool in the county town since 1973 when founding member and former mayor Leslie Phillips first became mayor.
Mr Phillips, who also donated cash to the scheme when he was a child, said: "It's fantastic, a great achievement for Dorchester to have a swimming pool and sports centre."
The new centre is being developed by West Dorset District Council, in partnership with Dorset County Council and The Thomas Hardye School, and constructed by the Leadbitter Group.
It will include a six-lane swimming pool, learner pool, fitness suite and dance studio.