Weymouth street cafe proposals are 'anti-business'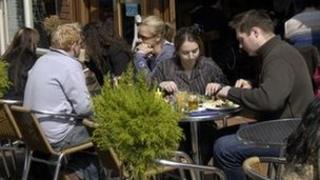 A Dorset resort will become "a laughing stock" during the Olympics if new rules for outdoor cafes and bars go ahead, traders have said.
Weymouth and Portland will be hosting Olympic sailing events in 2012.
The council could impose a 23:00 BST outdoor curfew and introduce a special licence for opening later, requiring traders to have dedicated security.
It said it aimed to balance support for licensed businesses with minimising noise and disruption for the community.
A second consultation on the new licensing conditions closes on Sunday.
The first resulted in a 2,000-signature petition criticising the plans.
'Alcohol-related disturbances'
Weymouth bar owner Georgina Grayson said: "I feel that each establishment should be treated individually, it sends out a message from the council of anti-business.
"The cost to us could be enormous."
She added: "It will make the town look a laughing stock, international visitors during the Olympics are used to enjoying an outdoor night-time life."
All outdoor dining and drinking areas would operate between 08:00 and 23:00 BST under the new proposals, but establishments applying for a licence outside of those hours would be considered on a case-by-case basis.
To obtain such an outside hours licence, the trader must provide dedicated security staff for the outdoor area, install CCTV and ensure all customers are seated.
Geoff Petherick, briefholder for community safety at Weymouth and Portland Borough Council, said: "The police had a concern because a lot of the alcohol-related disturbances occurred between 12:00 and 02:00.
"We want to support licensed businesses. They can stay open late providing certain conditions are met. We have a responsibility to balance the interests of licensees with the needs of residents and hotel owners.
"It is not unusual for late night venues which are licensed to sell alcohol to employ door staff.
"No decisions have yet been taken and I hope we will be able to work with all sides to reach a compromise that is acceptable to all."
The proposals will be considered by a council management committee in December.
If passed, the new rules will be implemented on 1 August 2012.