Chinese vase valued at £500k fails to sell at auction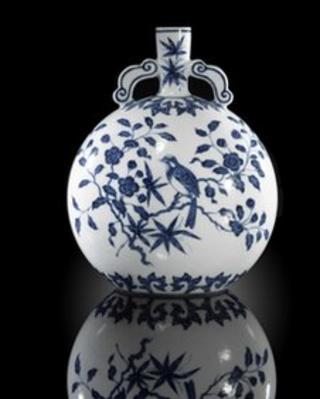 A Chinese vase valued at £500,000 after being taken to a Women's Institute village antiques fair in Dorset has failed to sell at auction.
The porcelain piece had been displayed in the owner's living room after it was acquired by her father in the 1920s.
Experts valued it at £500,000 and believe it is a Ming-style Moonflask created for the Imperial Qing Dynasty in the 18th Century.
But it failed to sell at Woolley and Wallis in Salisbury, Wiltshire.
The auctioneers said it was likely to have been copied directly from a Yongle original, now in the British Museum.
The owner, who did not want her name revealed, said the vase had been cared for as a family heirloom.
She said her father Capt Edward Watkins Whittington-Ince had acquired it when he served as commander-in-chief of the East Indies.