Soldier in Afghanistan remembers fallen Marine brother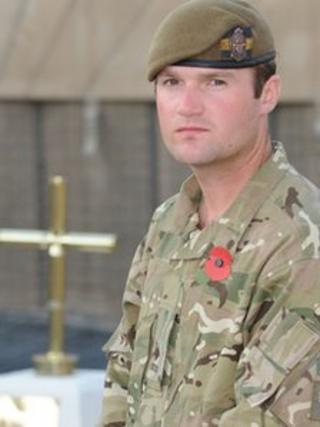 2nd Lt Ian Thornton from Bournemouth is on his first tour of Afghanistan, patrolling ground in the Nad-e Ali district, near to where his brother Lt John Thornton of 40 Commando died aged 22 in 2008.
"That was the worst day of my life", he said.
"John was on patrol as a Royal Marine troop commander when his vehicle struck an Improvised Explosive Device, killing him and one of his guys."
The 29-year-old, of 1st Battalion the Princess of Wales Royal Regiment, was still in Marine training when he heard the news of his brother's death, but was not deterred from joining the armed forces.
'John's footsteps'
After a series of injuries that caused a delay in his training, 2nd Lt Thornton passed out from Sandhurst, Berkshire, in April 2011.
As soon as he arrived at Camp Bastion, the main British military base in Helmand Province, Afghanistan, he visited the base's vigil site and saw his brother's name on the memorial.
The platoon commander also visited the hospital on site where his brother died, which he said was "a difficult moment".
He added he was "still glad" to be serving in Afghanistan, though considered leaving the armed forces when he thought of the effect on his family.
"Lucky they were massively supportive," he said.
"I know how difficult it is for them me being out here, but they recognise that this job is everything to me and is the only thing I've wanted to do."
He added: "Commanding men in Afghanistan is what I joined for and a part of it feels like I am following in John's footsteps."