Dorset's River Allen water vole numbers are decreasing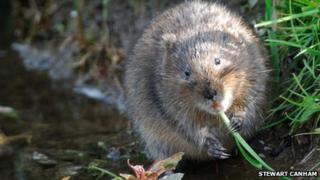 The number of water voles in one of Dorset's chalk streams is diminishing, according to the Dorset Wildlife Trust.
Surveys are carried out along the River Allen in east Dorset every five years by the trust.
For the past 10 years the rodents have been recorded at 10 sites along an eight mile (13km) stretch of the river.
This year's survey covered 3.4 miles (5.5km) and the trust had hoped to find water voles at about five sites but instead they were recorded at just one.
Amanda Broom, conservation officer at Dorset Wildlife Trust, said: "These results are very worrying."
Wiped out
As part of the River Allen Living Landscape Project, which is supported by Sembcorp and Dorset Wild Rivers, the trust said it was working with local landowners and fishing groups to make improvements to the chalk stream.
The work includes improving river bank vegetation for voles and other animals and creating pools and shallow gravels, which provide shelter for spawning trout and salmon.
The trust said these measures would also benefit the rare white clawed crayfish, which thrives in the area.
Ms Broom said: "We are urging anybody who has seen a water vole or any signs of their presence within the last year to get in touch."
She added that the trust was also keen to hear about sightings of mink, which she said were a non-native species and had helped wipe out water vole populations in the UK.