Lorry rips down Dorchester scaffolding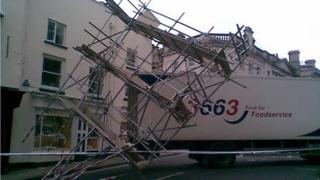 A lorry has crashed into a scaffolding tower in a Dorset town centre, bringing traffic to a standstill.
The lorry driver was apparently trying to turn into North Square in Dorchester from High West Street.
Several levels of scaffolding in front of a jewellers store were brought down and ended up on top of the vehicle.
Dorset Police said nobody was hurt but the main road through the town had to be closed for several hours. The Health and Safety Executive was informed.
Eyewitness Scott Duncan said: "The whole lot just came down into the High Street.
"I thought it was a bit of an unusual sound, looked up and the scaffolding wasn't on the front of the shop."
Sgt Anita Arliss, of Dorset Police, said: "It appears the the lorry has been coming up High West Street, has attempted sharp right turn, has missed the turn and caught the scaffolding tower causing it to fall."
The scaffolding was dismantled and removed and the road was later reopened.