Bournemouth camp protesters evicted from town hall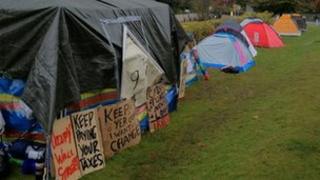 Protesters camped outside a town hall in Dorset to campaign against corporate greed have been evicted.
Bailiffs arrived at the site outside the offices of Bournemouth Borough Council shortly after 07:00 GMT.
The protesters packed up their tents and left when asked without any problems. They have now set up a new camp at St Peter's Church in the town.
On Thursday, they lost a last-minute appeal at Bournemouth County Court against the eviction.
A borough council spokeswoman said: "Three bailiffs moved onto the site at 7am today, supported by town hall facilities management staff.
Protesters cleared rubbish
"However, no forcible eviction was necessary as the Occupy Bournemouth protesters packed up their own belongings peacefully upon arrival of the bailiffs.
"The protesters also cleared away any rubbish generated by the camp and the site has been left clean and tidy.
"Some tents had been packed up overnight, with four remaining this morning, thought to be occupied by up to six protesters.
"The site was clear within 45 minutes of the bailiffs' arrival.
"Police officers were present on standby but no intervention was required.
"The town hall grounds are now clear and fully accessible to members of the public."
The borough council initially served a possession order on Monday.
Granting the order a week ago, the judge told the protesters: "You are trespassing and must leave the land forthwith."
The encampment is one of a string of protests across the country.
The protesters say they sought permission from the council and police before pitching their tents on 29 October.
Some have vowed to keep moving the camp to new sites if and when they are evicted.
One told the BBC that the group was protesting for a variety of reasons, including the banking bail-out, NHS reforms and pension reforms.