Bournemouth Occupy protest camp loses eviction fight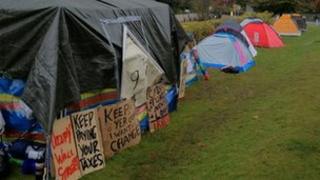 Protesters camped outside a town hall in Dorset to campaign against corporate greed have lost their legal fight against eviction.
Bailiffs had been due to arrive at 15:15 GMT on Wednesday to remove tents from outside the offices of Bournemouth Borough Council.
Lawyers for the protesters lodged a last-minute appeal at Bournemouth County Court against the eviction.
On Thursday afternoon a judge at the court refused them leave to appeal.
A council spokeswoman said: "We are pleased with the Court's judgement and will now proceed with arrangements for eviction of the Occupy Bournemouth camp.
"We are not able to say at this stage when eviction will take place as we are awaiting confirmation of the Bailiff's availability.
"We very much hope that, now the Court has upheld our possession order, the Occupy Bournemouth protesters will leave peacefully and immediately.
"Our aim has always been for a peaceful resolution to this situation."
The authority served a possession order on Monday.
Granting the order on Friday, the judge told the protesters: "You are trespassing and must leave the land forthwith."
The encampment is one of a string of protests across the country.
The protesters say they sought permission from the council and police before pitching their tents on 29 October.
Some have vowed to move the camp elsewhere if they are evicted.
One told the BBC that the group was protesting for a variety of reasons, including the banking bail-out, NHS reforms and pension reforms.