CiN Violin orchestra helps Dorset children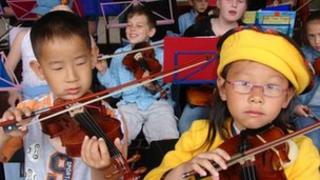 The head of a music charity in Dorset has described how its violin orchestra has helped improve the lives of children in deprived areas of Bournemouth.
The Coda Fiddle Orchestra is one of hundreds of projects that have been helped by Children in Need.
More than 40 children play in the ensemble in the suburb of Boscombe.
Chief executive Phil Hallett said: "It gives them a musical education and improves their broader learning."
The orchestra has been running for more than seven years and in 2010 was given £11,000 by Children in Need to fund it over the next three years.
Free access
Mr Hallett said the money had enabled it to be more ambitious.
"It's amazing because it's allowed us to plan from year to year. This year we've tried to focus on expanding the number of performances," he added.
The orchestra is open to children between the ages of five and 18 who would not normally get free access to a musical education.
Anyone can join and it costs £3 a week but children who are eligible for free school meals can join for no cost.
Members get loaned a violin so they can practice at home and they receive tuition from the experienced musician, Jack Maguire, every Saturday.
The fiddle orchestra has played everywhere from its local supermarket to the Bournemouth International Centre.