Legal moves against defiant Bournemouth town hall protesters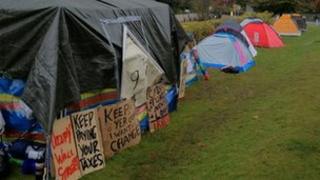 Protesters camped outside a town hall in Dorset for more than a week could be evicted within days following legal moves by the council.
A judge granted the authority a possession order for the land, currently occupied by tents, on Friday.
Bournemouth Borough Council said a copy was given to the protesters at 16:15 GMT on Monday and the bailiff was processing the warrant request.
The Occupy Bournemouth group has vowed to stay "until the bailiffs come".
A statement from the council said: "We had hoped that the group would leave of their own accord over the weekend.
As a result, we have had to process the warrant of possession with a view to setting an imminent date for eviction. We still hope that this course of action will not be necessary and that the group will leave peacefully."
'Lack of sanitation'
The demonstrators said they would leave when bailiffs arrived, but vowed to move their camp elsewhere in the town.
Kim Elkin told BBC News earlier there were currently about 10 people and 11 tents still outside the town hall.
She added: "We are still here, we are waiting for the bailiffs to come, then we will move. We are just taking it as it comes, we are not leaving.
"We are going to continue our protest somewhere else, but we are not revealing where at the moment."
About a dozen protesters were in court on Friday to hear the ruling. A member of the group acted as a lay advocate, arguing that they had permission to be there.
Granting the possession order for the land, the judge told them: "You are trespassing and must leave the land forthwith."
The protest, which is part of the Occupy Bournemouth movement, began as part of a string of protests across England.
The protesters say they sought permission from the council and police before pitching their tents on 29 October.
One of them said the group was protesting for a variety of reasons, including the banking bail-out, NHS reforms and pension reforms.
The council said it was concerned about the lack of sanitation on the site and the effect of the encampment on a number of forthcoming events, including weddings.