Bournemouth town hall camp protesters to be evicted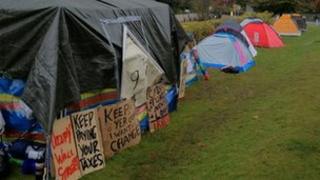 Protesters camping outside a town hall in Dorset have been told to leave.
A judge at Bournemouth County Court granted Bournemouth Borough Council a possession order of the land which has been occupied by tents for a week.
The council can use the order to obtain an eviction order, which will give the protesters 24 hours to leave.
About a dozen protesters were in court to hear the ruling. A member of the group acted as a lay advocate, arguing that they had permission to be there.
The judge told them: "You are trespassing and must leave the land forthwith."
The protesters, who are part of the Occupy Bournemouth movement, are considering whether to move the camp elsewhere.
The encampment of nine tents began as part of a string of protests across the country.
The protesters say they sought permission from the council and police before pitching their tents on 29 October.
One protester said the group was protesting for a variety of reasons, including the banking bail-out, NHS reforms and pension reforms.
The council said it was concerned about the lack of sanitation on the site and the effect of the encampment on a number of forthcoming weddings.
Council officers had already removed banners from the camp because the authority said they were contravening highways laws.