Dancing bears rescued in Serbia helped by Dorset charity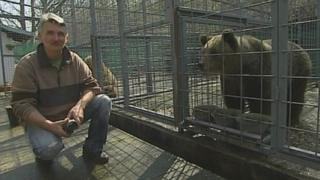 A small Dorset charity is helping to treat abused dancing bears rescued in Serbia.
The Worldwide Veterinary Service (WVS), based in Cranborne, helps organisations around the world with medicines, equipment and treatment.
A team of three volunteers travelled to Serbia to help treat five bears at a sanctuary in the village of Banostor on the Danube.
The bears were confiscated from street entertainers who made them perform.
The practice is illegal in Serbia and anyone found keeping and abusing wild bears face prosecution, but it still continues.
The only sanctuary in the country for brown bears is a small temporary centre in the back garden of Pavel Pasko, who runs the Arka charity with his wife Branka.
Lips pierced
When rescued bears arrive, they are often in chronic pain and suffering from infected teeth and gums.
Mr Pasko said: "Our bears don't have here in Serbia experts to treat them.
"We didn't know who to ask for help, but then we remembered Worldwide Veterinary Service so we called them and they responded."
The bears' former owners have smashed their teeth to make the animals "safer" to handle.
Metal chains have been put through their lips, and sometimes their jaws, to attach ropes that are then tugged to inflict pain to make the bears move in a way that resembles dancing.
Not long after arriving, vet Heather Bacon from WVS operated on her first patient, a female bear called Bozana.
She removed nine broken teeth from Bozana, who was kept in a rusting car for 10 years, and dragged out to perform on command.
A second bear, Elvis, did not recover from his tooth surgery and died.
A post-mortem examination later revealed his liver and kidneys were diseased, which meant his body could not cope with the anaesthetic.
Ms Bacon was on her second trip to Arka.
Last time she helped another of the bears, Kassandra, who is now in good health.
She said: "We removed around 20 teeth or teeth fragments from Kassandra last time.
"She's been quite badly beaten around the face so her right eye is blind due to traumatic damage and her teeth were probably the worst teeth I've ever seen on a bear, they were horrendous.
"You can see her lips are all shredded and that's where she's been tethered for dancing and the tethering chains have just ripped through her top lips."
Ms Bacon and her team managed to repair some of the damage to make it easier for her to eat.
Another bear, Uske, arrived badly traumatised.
Mr Pasko said: "Her owner was really, really mean. We know that because we met him. He tortured her, beat her, so she remembers that very well.
"She doesn't trust people at all."
Raising awareness
Money is short and Mr and Mrs Pasko struggle to pay for the animals' care.
But their dream is to create a larger sanctuary where Serbia's former dancing bears can live out their lives more comfortably and in a more natural environment.
Back in Dorset, work continues both at the front and back of WVS's shop in Cranborne.
At the front, charity sells secondhand books to pay the rent on the building and in the back office volunteers pack medicines and equipment to be sent abroad along with voluntary veterinary teams.
WVS was founded by local vet Luke Gamble and is run with volunteer help.
He said: "We go absolutely anywhere that needs help. We go all over the world.
"Because we are very small, we're very flexible and nearly everything we get goes straight out.
"Serbia has this fantastic little charity there and championing the plight of dancing bears - raising awareness about the conditions and the desperate sadness in how they're treated and abused - is a really worthwhile thing to do.
"Just driving forward that campaign and supporting the people on the front line of that is what it's all about."
You can find out more about the Worldwide Veterinary Service and its work with rescued Serbian dancing bears by watching Inside Out on BBC One South on Monday at 19:30 GMT.