Weymouth Olympic sailing observation tower work starts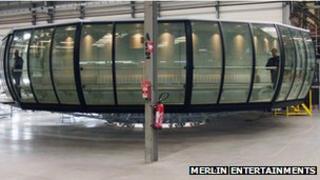 Groundwork preparations for a new £3.5m viewing tower at Weymouth seafront are under way in Dorset.
The tower is due to be built in time for next year's Olympic sailing events, which Weymouth and Portland will host.
The 53m (173ft) structure on Festival Pier will include a rotating pod which will carry 70 people.
Twenty-nine, 60cm (1.96ft) concrete piles are being sunk to a depth of 17m (55ft) at the pier, as a watertight barrier for the excavation works.
An official groundbreaking ceremony will be hosted in January when work on a seven-metre deep hole for the tower's foundations begins.
The tower, which is being constructed in Bremen, Germany, will be shipped to the UK in sections. Its total weight when complete will be 130 metric tonnes.
A number of residents lodged objections with Weymouth and Portland Borough Council, which approved the plans, with several claiming the tower would damage views.
Merlin Entertainments, the firm behind the plans, said feedback had been "very positive" but it vowed to address concerns raised by some residents.
It said many people felt the structure would improve the area and boost the reputation of Weymouth.
But it admitted others raised concerns on issues including pricing, parking, flooding and the tower's design.