Purbeck dormouse search success after nine years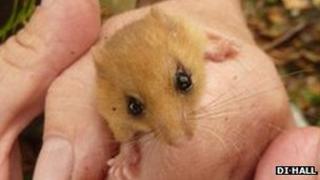 A nine-year search for dormice in part of Dorset has finally ended in success.
A single female has been found nesting in a hedgerow close to the A351 between Wareham and Corfe Castle.
Volunteer ecologists Di Hall and John Winterbottom found the elusive dormouse on the National Trust's Purbeck Estate. They started searching in 2002.
Dormice have only been recorded on one other site in Purbeck during the past 10 years, at the Dorset Wildlife Trust reserve in Stonehill Down.
The adult female was found nesting in a survey tube designed to attract the shy rodents.
"When I opened the tube I found the dormouse in woven nest that was beautifully constructed with sides and a back," said Ms Hall.
"She was 0.75oz (21g), which is a good weight for hibernation."
The dormouse has now been transferred to a nesting box and it is hoped she will soon go into hibernation before emerging next spring.